Ever wonder what to wear for your outdoor run? Running expert and SureFiz trainer shares her favorite gear to help you run your best no matter the weather!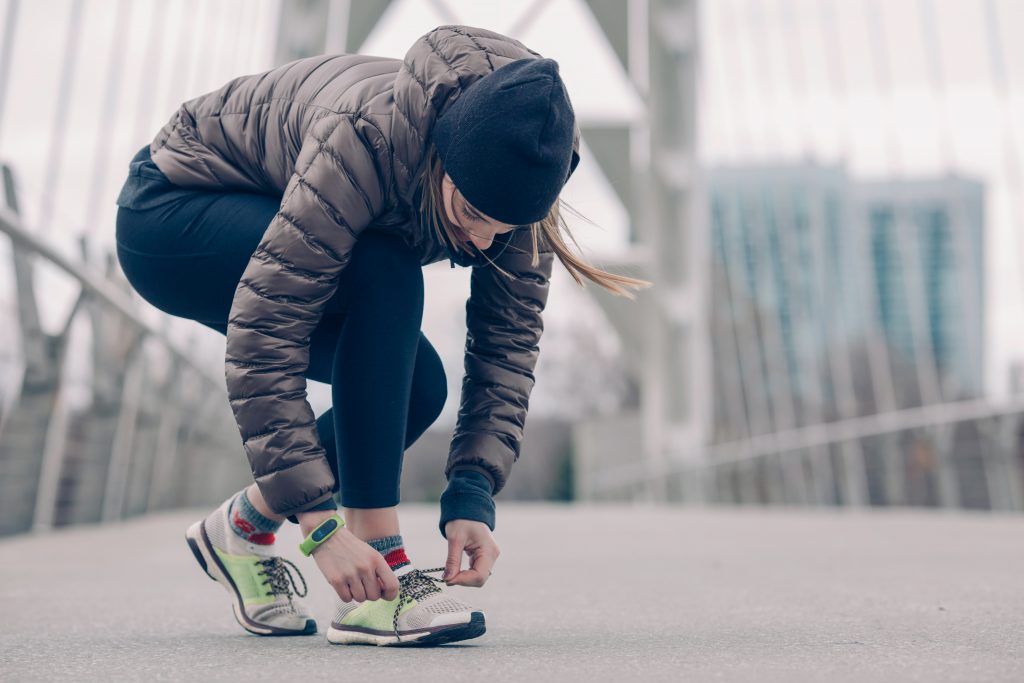 Running is a very basic sport for weight loss that many people can do easily and rather inexpensively, but it does come with some initial cost if you want to feel comfortable and running your very best. Running outdoors requires a bit more equipment, as the seasons and weather changes will affect choice of gear. SureFiz trainer and avid runner Jenn Ryan shares her top picks and tips for running in a variety of climates.
Hat or visor–A good lightweight running hat can be the best choice, especially for women with long hair. The hat can hold in stray strands, helping you focus more on your run and less on the messy hair in your face. On hot, bright sunny days, a visor can be a good alternative to a hat because it will allow for the heat to escape your body while still keeping hair out of your face. Some people prefer headbands to keep hair in place, and there are a fair amount of headbands on the market that are designed to cover your ears in colder weather.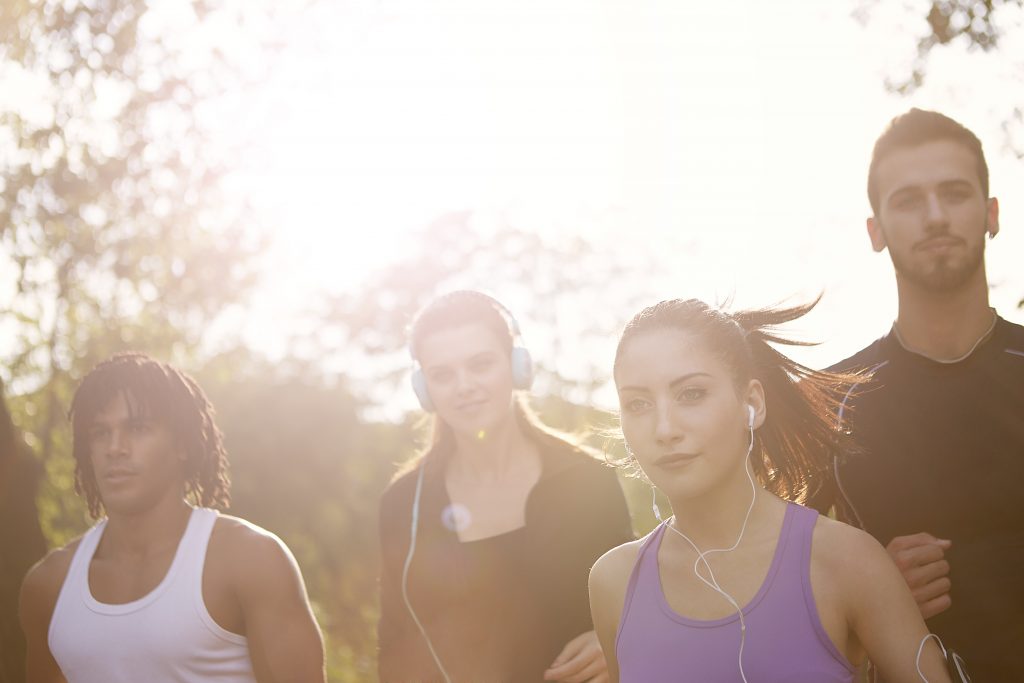 Headphones–A good set of headphones is extremely helpful to keep motivational tunes, your favorite podcast or an audiobook in your ears and keep you moving when the miles get tough. Bluetooth enabled headphones are well worth the extra money, as they will eliminate the annoyance of having wires swinging around while you run. There are a number of different types from ear buds to full noise canceling over the ear headphones, and it really depends on personal preference. Go with what is most comfortable for you, and don't be afraid to spend some money. With headphones you truly get what you pay for and it can be really frustrating to mess with bluetooth connections when you're trying to run.
Sunglasses–When it's a bright and sunny day with the sun beaming down at you or right in your eyes, sunglasses can help protect your peepers. In this scenario, the cheaper the better. Jenn recommends finding the cheap pair that was given in a goodie bag at a seminar or some from the Dollar Store. The cheaper pairs are much more lightweight and you won't be disappointed if you set them down, drop them or lose them on a run.
Running tops– In warmer running climates, lightweight slightly fitted tanks are best. Wearing lighter, brighter colors is also beneficial for a few reasons-mainly to keep you visible to cars and to attract less heat. In cold climates, a lightweight long sleeve dri-fit top can keep you warm and wick the sweat from your body once you're a few miles in. Jenn also recommends a half zip top to further control body temperature-fully zipped at the beginning of your run, and you can unzip after warming up. In extremely cold winter weather, a nice puffy vest can be worn over any top, keeping your core temperature warm and comfortable in wind, snow or rain.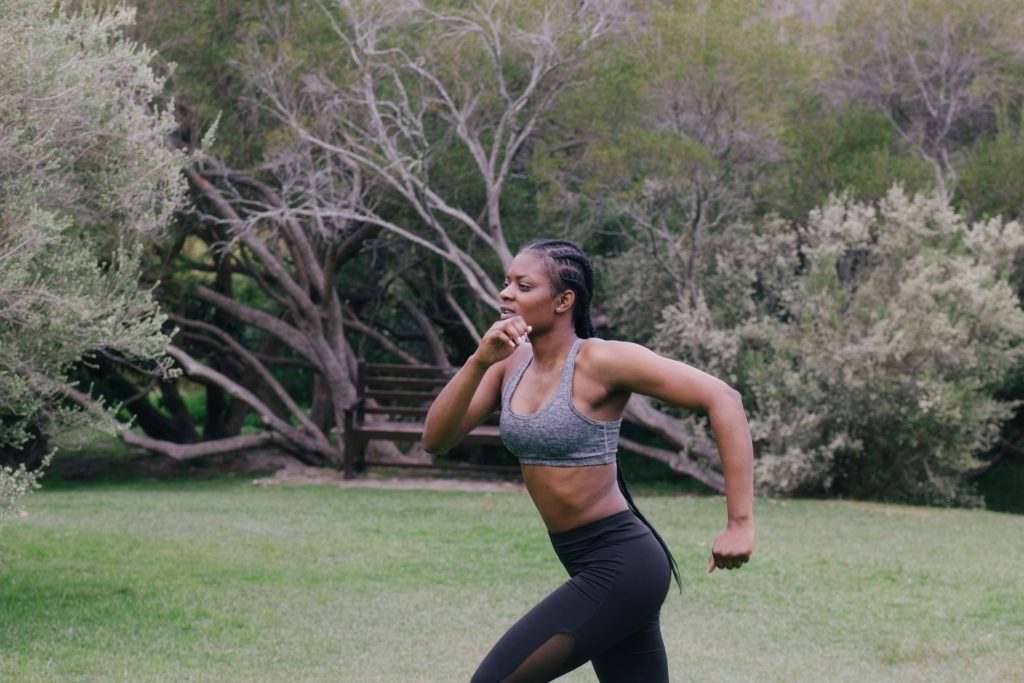 Sports Bra–For women, a good quality sports bra is a must. Keeping yourself supported and comfortable for the longer mile runs is extremely important. Many brands offer great products, but checking with your favorite department store is a good place to start. Some popular sports apparel brands like Lululemon, Nike, Adidas, and Fabletics all have an array of styles and support levels for any body type.
Deodorant– The main goal and purpose of deodorant is to help with body odor and underarm sweat, but it can also be a valuable tool for chafing. Anytime you run extra miles, especially in the warmer summer months, you risk chafing in areas of the body that run together. Simply rubbing deodorant over those spots can help reduce uncomfortable chafing. Another option is a product called BodyGlide that produces a similar effect.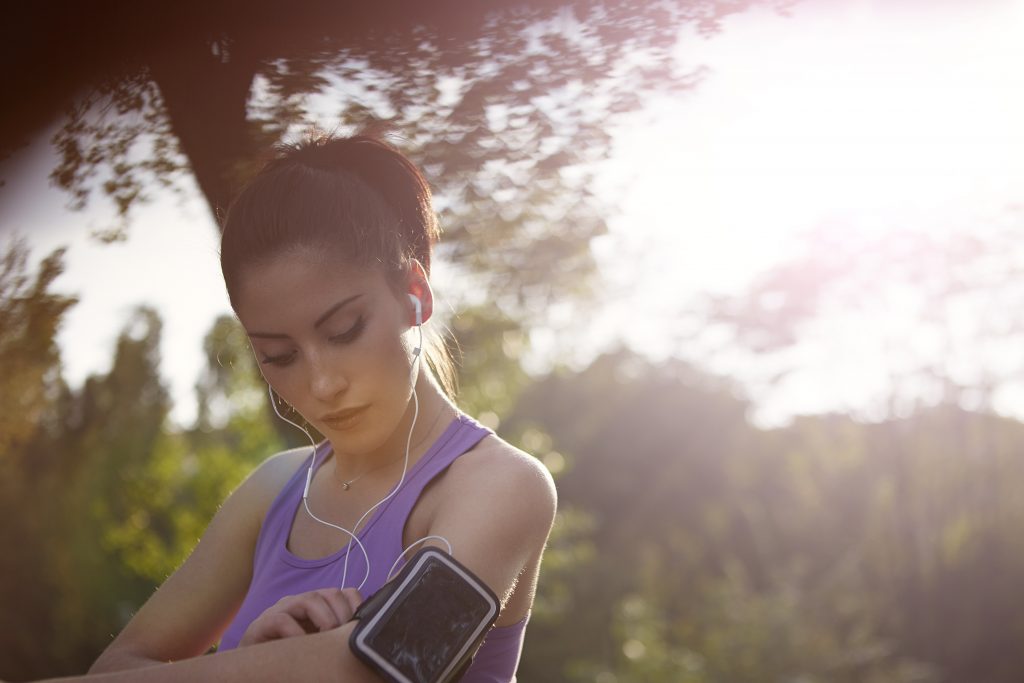 Armband–An armband is a great place to store your phone, key, gym card or ID while you're running. There are many different options and sizes available depending on how many things you need to store while running. Many running stores or larger box stores carry a variety of armbands.
Pants or Shorts–In warmer summer months you may find it more comfortable to wear shorts or crop leggings. There are ranges of shorts from compression and form fitted to loosely fitted, and it depends on comfort level. Some people prefer full compression while running and others are bothered by tightly fitted clothing. Regardless, you should find a nice dri-fit fabric that wicks away sweat and water to keep you cool. In colder, winter months a full length legging for men or women will help keep body heat warm when the outdoors is frigid, windy and rainy. For women, finding a legging that has pockets can come in handy for extra storage. For men, there are many styles of lightweight leggings that can be worn under running shorts to help keep the legs warm.
Socks–A lightweight, comfortable pair of socks is best. Many athletic companies such as NIke, Puma and Adidas have great options designed to support the foot and stay in place during exercise. If you struggle with foot pain during any of your workout or fitness programs, you'll want to invest in compression socks to help support the foot when running.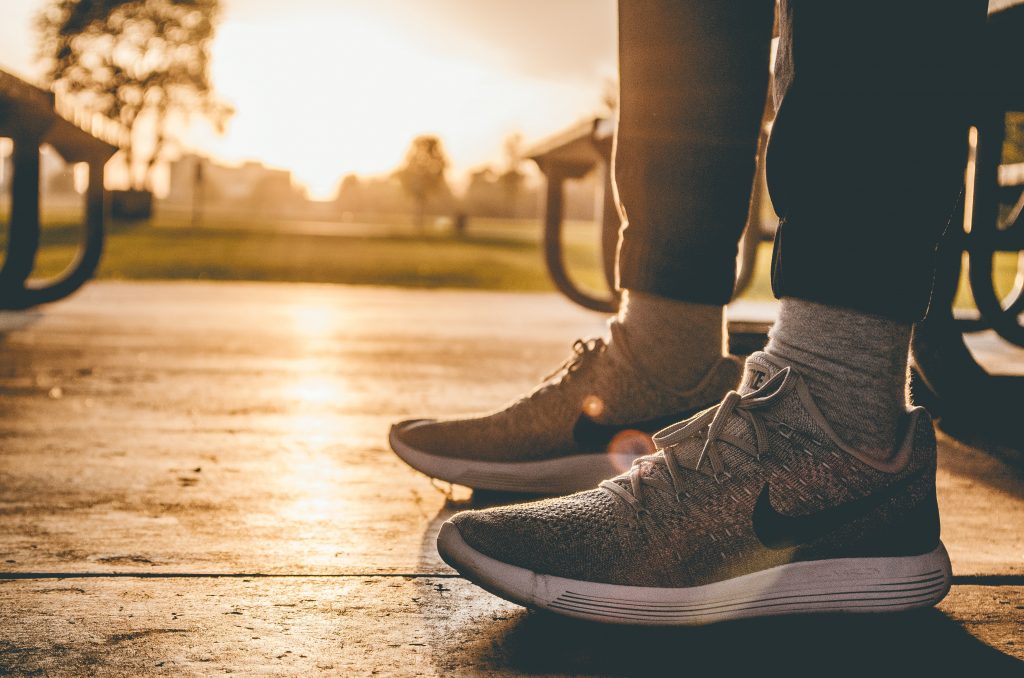 Shoes–A good pair of running shoes is extremely important in supporting your foot. Jenn Ryan states, "It's more expensive to pay for physical therapy for your injuries than to invest in a good pair of shoes". No name brand is the "best" brand for running, Jenn says. The best recommendation she gives is to find a running store near you where you can try a few different pairs, test them and choose the best fit for your foot, gait and arch type. If you can't make it to a store, many stores have online tools to help you determine your best shoe type.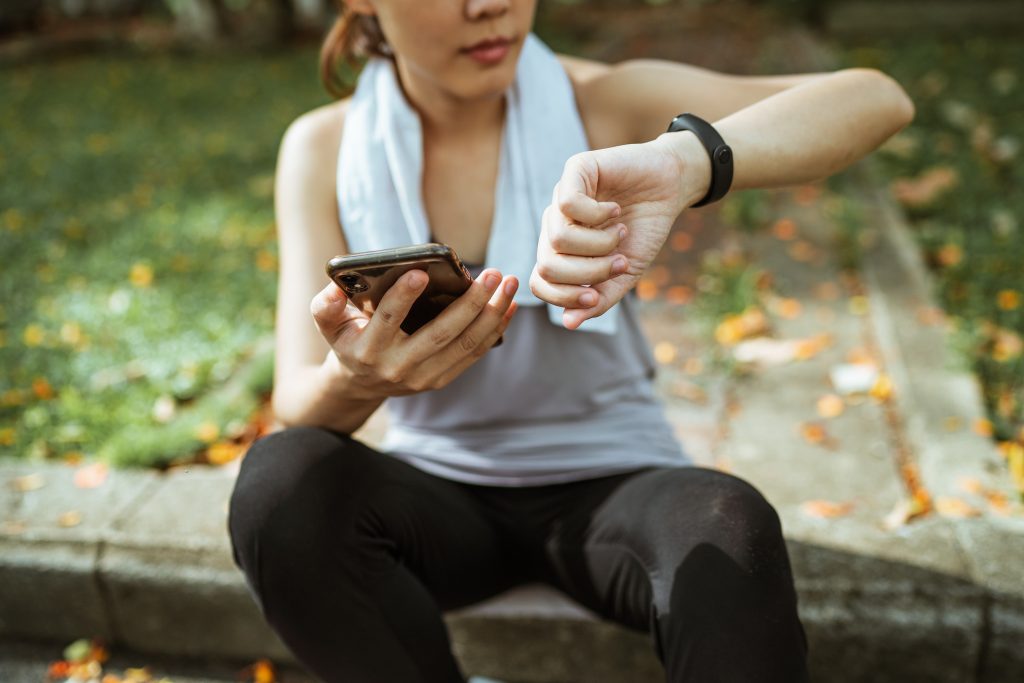 Fitness Tracker–This is a must have! Fitness trackers are not only helpful for running but for many aspects of your weight loss program. Fitness trackers in smart watches have become incredibly popular and there are many brands on the market, including Apple, Garmin, or Fitbit. They can also track steps, monitor heart rate and send you alerts and notifications should you choose-which are all helpful along your weight loss journey. Some of these items also contain GPS for running, so definitely do some research to find the best fit for your needs.
Other accessories–There are some accessories that you might find helpful through your running weight loss journey, especially if you tend to be a bit more injury-prone. Calf sleeves or compression socks can help with a range of issues, such as ankle injuries, knee pain, shin splints or calf strain. Another item that can be extremely versatile in helping with soreness or injury is kinesiology tape. The tape can help anywhere and be used in a multitude of ways to help. You can check out YouTube for tips on how to use the tape for your specific injury or need.
These items and accessories are all great for running, but not ALL items are necessary for running and weight loss. It may take some time of hitting the pavement to test things for yourself and find what works best for you. No matter what you use, be proud of yourself and this weight loss journey. You are amazing and can reach your goals! Be sure to visit our website at SureFiz.com regularly for more diet tips, workout plans and helpful resources.