Yoga can be very effective at increasing blood flow and flexibility, while also improving your focus. Here are some favorite yoga poses anyone can master!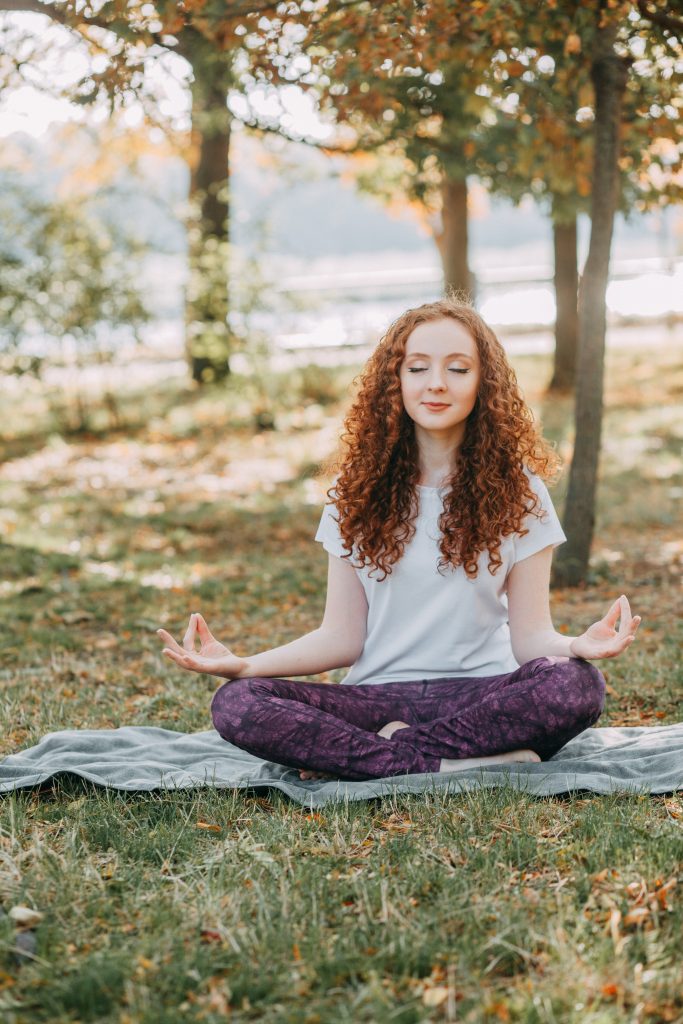 Yoga has exploded in the American fitness scene over the past 10-15 years as a relaxing option in holistic weight loss programs to build strength, core endurance and flexibility. But it has been around for many years and can be traced back to ancient India. According to Yoga Basics, "The development of yoga can be traced back to over 5,000 years ago, but some researchers think that yoga may be up to 10,000 years old old. Yoga's long rich history can be divided into four main periods of innovation, practice and development". Although ancient practice of yoga included a spiritual component including prayers and meditations, current Westernized yoga is mainly practiced for its health benefits in relation to weight loss, strength building and an emphasis on flexibility.
Medical Daily reports that "the popularity of yoga in the U.S. has increased throughout the decades, rising from 4 million in 2001 to 20 million in 2011. Since then, plenty of scientific studies have found that yoga comes with a flurry of health benefits: It reduces high blood pressure, depression, chronic pain, and anxiety. It also improves cardiac function, muscle strength, and circulation". Yoga can also be a very beneficial component of your current diet and weight loss program. Increasing blood flow and core strength will support other areas of weight loss and help you feel stronger and more centered on your weight loss journey. If you can't start practicing yoga in a class at your local gym, you don't have to miss out on all the health and weight loss benefits that yoga offers! You don't have to be an expert to practice yoga easily and safely at home. We have some ideas and tips to get you started, as well as some tried and true yoga poses that are sure to bring you the benefits to make your weight loss plan holistic and well rounded.
How To Practice Yoga At Home
Yoga is a very easy practice to do from home, once you have an idea of what poses to try and a general knowledge of flow. Yoga International offers 6 tips to help you start incorporating yoga into your weight loss program at home (or anywhere), and how to setup a good space to prepare yourself mentally to relax and focus:
Start with quiet
Yoga is all about internal focus and energy. If you begin by setting up a quiet space in your home without distractions, it will help you start practicing yoga in the right frame of mind.
Pick a direction
There are many different forms and styles of yoga. Choosing the style that best fits your lifestyle, workout or weight loss plan, time constraints and mentality will help you succeed at the practice of yoga while contributing to a holistic weight loss plan.
Set an intention
Be intentional with the poses you choose and how to do them. Setting an intention will help you use your time more constructively and wisely. Be aware of what your goals are and how yoga can fit into your current weight loss program to help you see the best overall results.
Choose poses you love
If you choose poses you enjoy doing, you will be much more likely to continue and less likely to give up. Enjoyment and focus go hand in hand while practicing yoga.
Pay attention in class
If you do take a class in a gym or even virtually, take mental notes when the instructor explains the poses so that you know the correct form and breathing techniques to ensure you can safely execute the poses when you are alone at home.
Move in all directions
Choose poses that incorporate all movement patterns-leaning side to side, back to back, a twist pose and turning upside down. This will help you get the maximum full body benefit in your personal yoga practice. It will also benefit you in your other weekly workouts, helping you feel stronger, healthy and more centered.
Simple Yoga Poses
We have included seven of our favorite simple yoga poses to give you some ideas to start practicing yoga at home. The list of amazing and beneficial yoga poses is endless, so this is simply a place to start. Be sure to practice all the poses intentionally with deep breathing and steady, slow movement. If you want to learn more about focused yoga practice, there are many online resources to help you choose a focus or direction. These moves are simple enough for beginners just starting their weight loss journey to avid runners looking to loosen their legs or those who have been practicing yoga for years. You should never feel pain or tightness during yoga, so if something hurts listen to your body and skip the exercise or find a modification that works for you.
Triangle Pose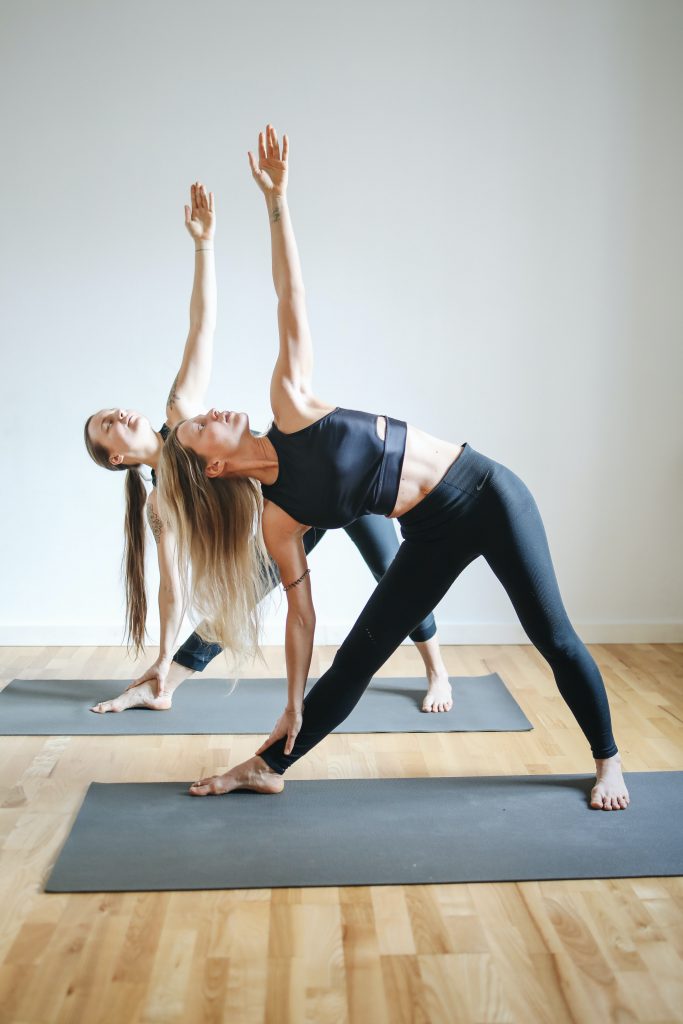 Triangle pose is beneficial in many ways, some of the main benefits are strengthening multiple muscle groups, opening up the hips and reducing anxiety. Start in mountain pose (standing, face forward, at the front of your mat). Step one foot back 3-4 feet while twisting to the side, arms up and out in a T position. Make sure your toes of the front foot are pointed forward and the toes of your back foot are angled out (about 45 degrees). Make sure both legs are straight but knees not completely locked. Begin to hinge the hips as you lean forward, bringing your front arm forward and down towards the ground. The back arm begins to point up towards the ceiling. Hold the pose for a couple of breaths before returning back to mountain pose (standing) and repeat with the other side. (Open Fit)
Seated Twist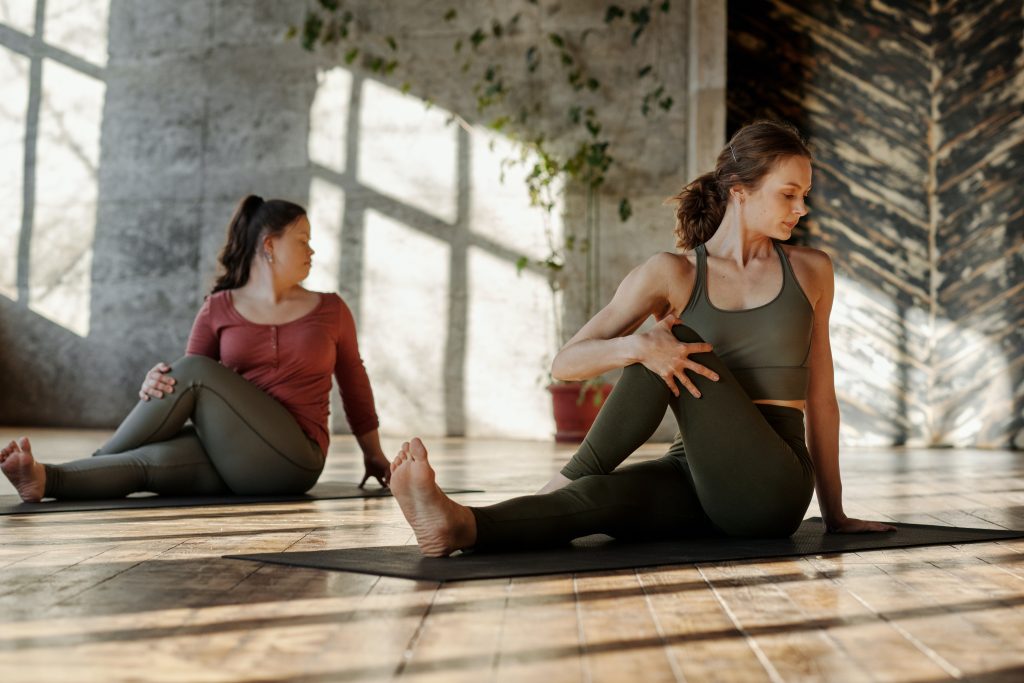 Twists are a great way to stretch the spine differently while also stretching the arms and relaxing the shoulders. There are many forms of seated twists, but this one is our favorite. It is formally known as Marichyasana C. Begin in staff pose, or sitting with both legs straight in front of you. Sit up straight and tall. Bend your right knee and place your foot firmly on the ground while keeping your left leg straight. Place your right arm down behind you for support and twist your body to bring your left elbow across the body until it rests on the outside of the right knee. Hold the pose for a couple of breaths. Bring the body back to center (staff pose) and repeat with the other side. If you have any spine issues or intense back pain, this would be an exercise to avoid or modify as it can impinge the discs of the lower spine in those who suffer with back issues. (Yoga Outlet)
Downward Dog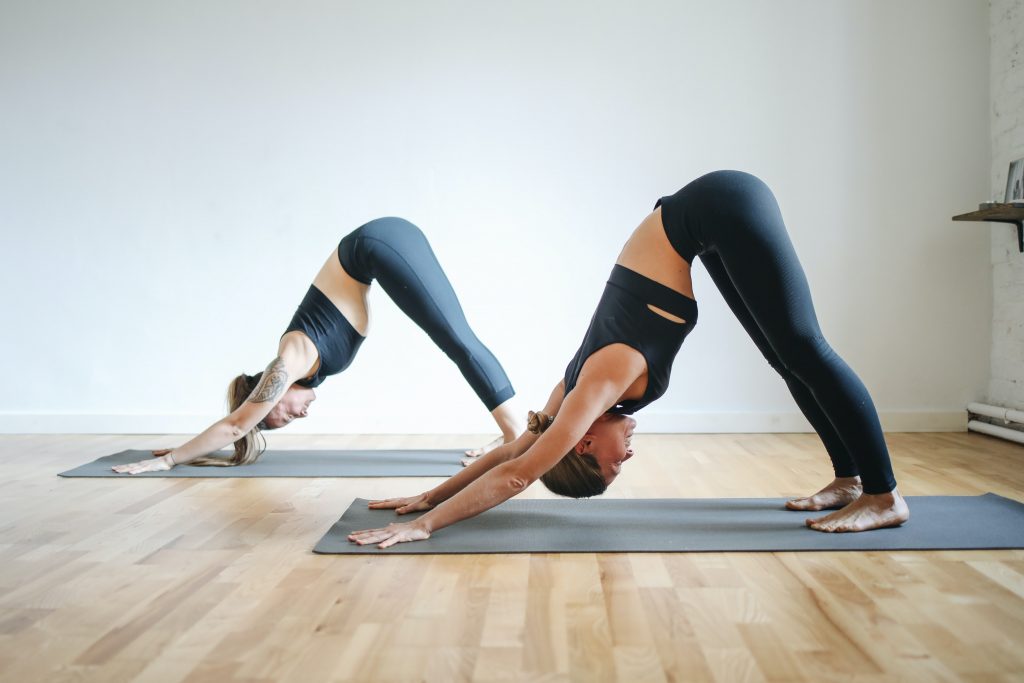 Downward dog is great for improving focus, stretching the spine and the backs of the legs. Begin this pose in tabletop position (or on all fours). Arms should be straight with hands directly under the shoulders and knees under the hips. From here you can push up into a plank position keeping the legs straight and spine in neutral alignment. Begin to push the body back and the butt up in the air, keeping in mind that your legs and back stay straight until you've formed an upside down V position with the body. It is okay if your heels don't touch the ground at first, the most important thing to keep in mind is a straight back. Pause in the down position for 2 breaths. This pose may be challenging for those with high blood pressure or a tendency to get dizzy, so modify if needed. (Yoguonline)
Cobra Pose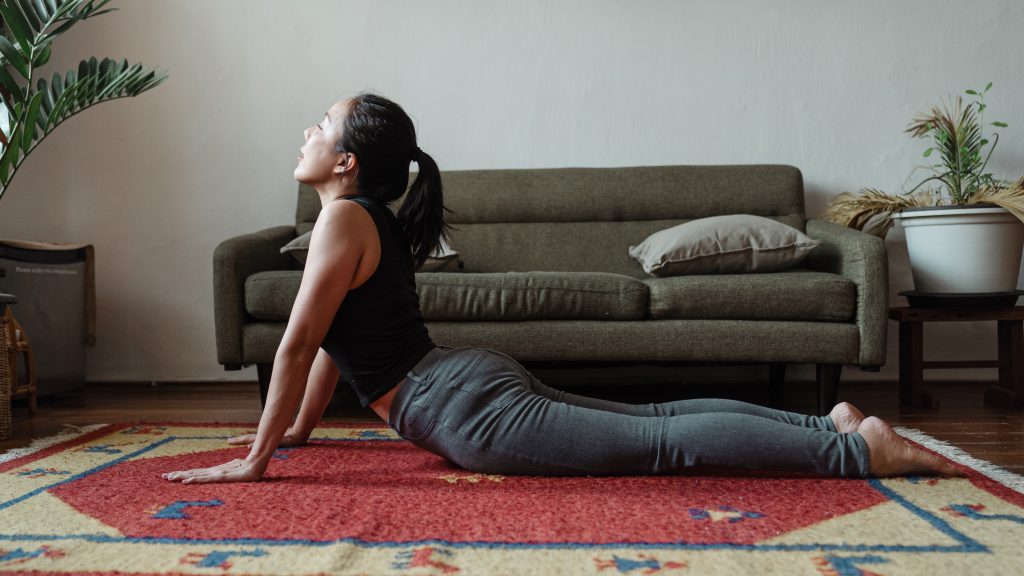 Cobra is a great pose for opening up the chest and stretching the abdominals. Begin by lying on your belly face down (prone position). Keep the legs straight behind you with thighs resting on the ground and toes pointed. Bring your hands under your shoulders, palms on the ground and elbows bent. Begin to push your body up, keeping the shoulders down and back, and your gaze up towards the ceiling. Make sure your upper back doesn't begin to round forward and stop before the point that your lower back begins to feel pinched or tight. Hold the pose for two long breaths before returning to the starting position. If this pose bothers your back, you can modify with bent arms and keep your arms bent with your forearms on the ground. (Yoga Journal)
Pigeon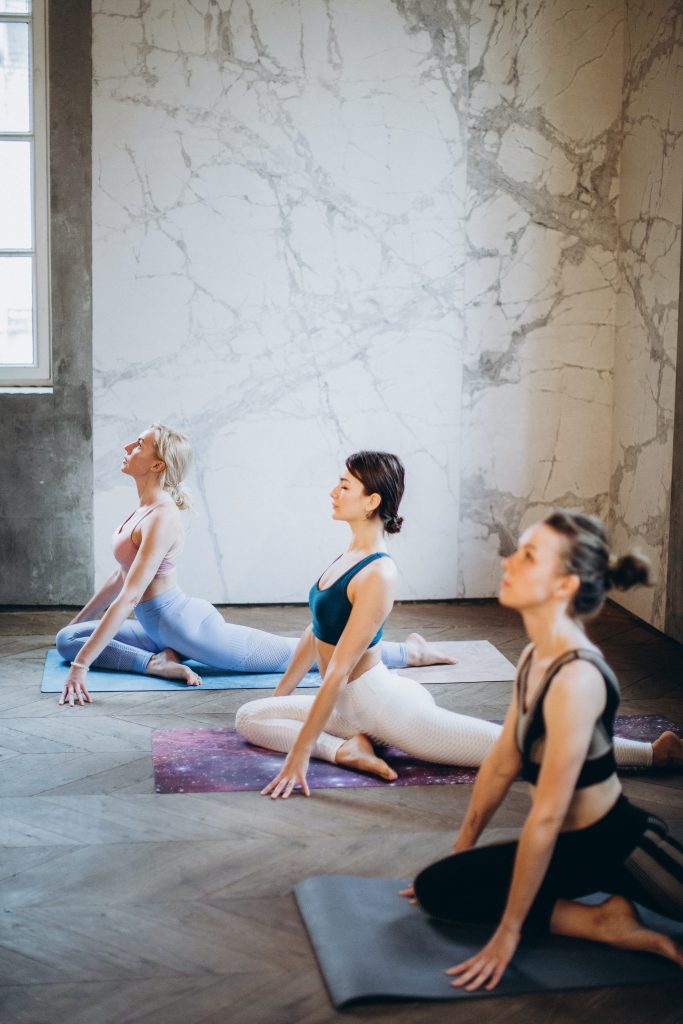 Pigeon is a wonderful hip opener for anyone who is feeling tight hips as a result of hard workouts. Keeping hips flexible is so important for healthy weight loss and preventing injury. Begin in plank position or modified plank on your knees. Bring your right leg forward and bend the knee as your right foot crosses over the left side of your body. The right shin should be parallel to the ground. Keep your shoulders square towards the front of the room and hold the pose for two breaths. If you feel any tightness or pain, feel free to adjust the position or bend of your leg until you reach a comfortable position. Return to the starting position and repeat with the left leg. (Women's Health Magazine)
Standing Forward Fold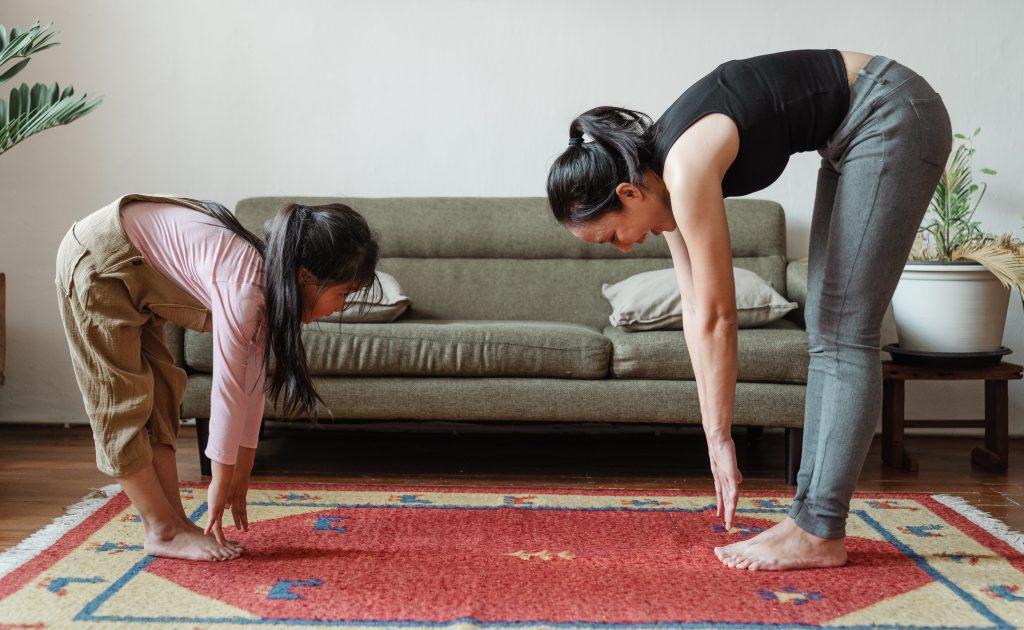 Forward fold helps with focus, calming the mind and anxiety. It can also help with headaches and reduce stress. To begin, stand in mountain pose with hands at your sides. Bring your arms slightly forward and gently lean over, bending the back and keeping the knees soft. If your hamstrings (back of your thighs) are tight and you cannot bend very far, that's okay. Rest your palms on your shins or thighs for support. Very flexible people can bring their palms to the ground or reach around to the back of your calves. Hold the pose for two breaths. If you have high blood pressure or feel dizzy, you can try to modify it by shortening the length of the bend and resting your hands on your thighs. (Yoga Outlet)
Child's Pose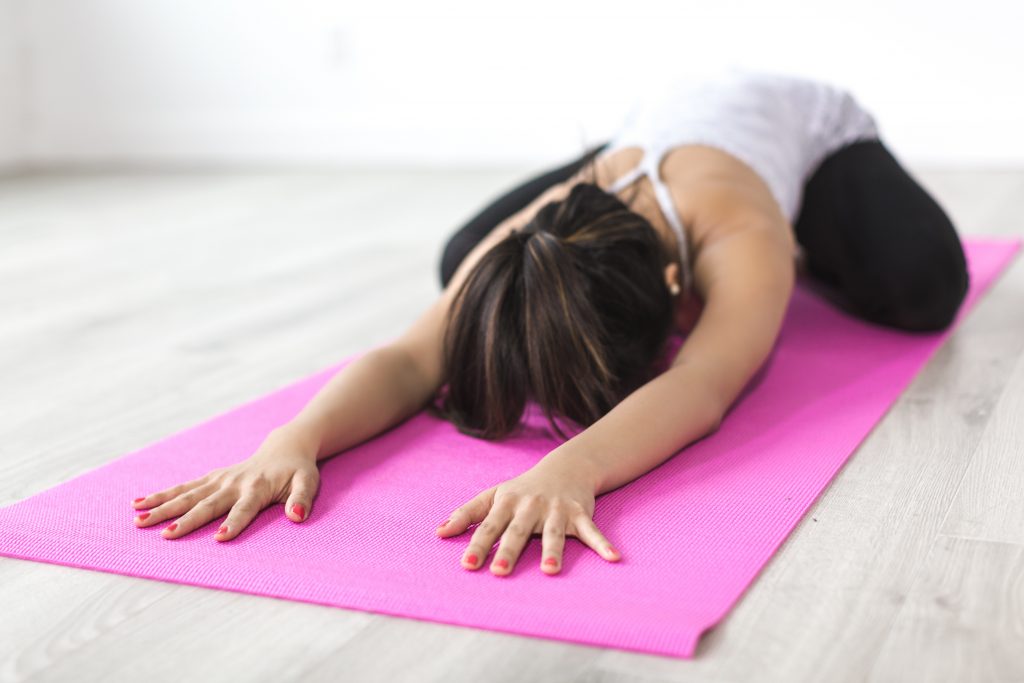 Child's pose is a very simple, classic yoga pose that is great for stretching the back, centering the mind and relaxing the body. Begin by kneeling on the floor and start to bring your feet together while simultaneously bringing the knees out wider than the hips, so that your hips rest between the legs. Lean forward as far as you can, reaching your arms out on the floor in front of you and resting your head on the ground if comfortable. Hold for 2 or more breaths until you feel calmed and centered, then return to the starting position. You can modify this position by keeping your knees together and sitting over the feet, if the hip opener is too much on your hips to begin with.
Give these poses a try and see how you like them! Be sure to share with us in the comments section. Here at SureFiz we value holistic, healthy weight loss and yoga can certainly offer a relaxing component that will rejuvenate you, make you feel stronger and more flexible and offer you more overall success as you travel through your weight loss journey. For more tips and advice, be sure to click here to sign up for our FREE weight loss workout plans, recipes, and diet plans. We support you on this journey and will be there every step of the way to help you reach your weight loss and fitness goals!