If the holidays have left you bloated from overeating, check out some simple ways to change your habits and see better results in your weight loss journey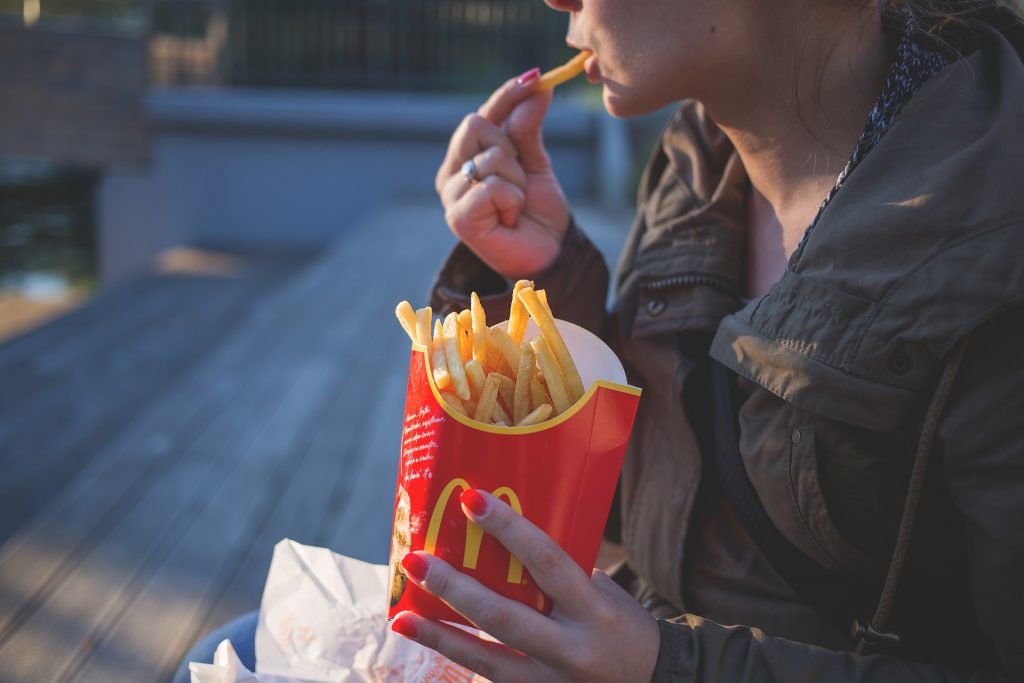 As we begin to wrap up the holiday season of 2020, many Americans are evaluating their lifestyles over the past year and vowing to begin 2021 with healthier food choices. If you are one of many Americans who struggle with overeating around the holidays, you are not alone. But if you struggle to control quantities and eat too much on a regular basis, you can severely hinder your weight loss plan and end up gaining weight instead of losing. SureFiz trainer and health coach Jenn Ryan has some advice to help you successfully lose weight and control your eating as you begin the New Year.
1. Start a Food Journal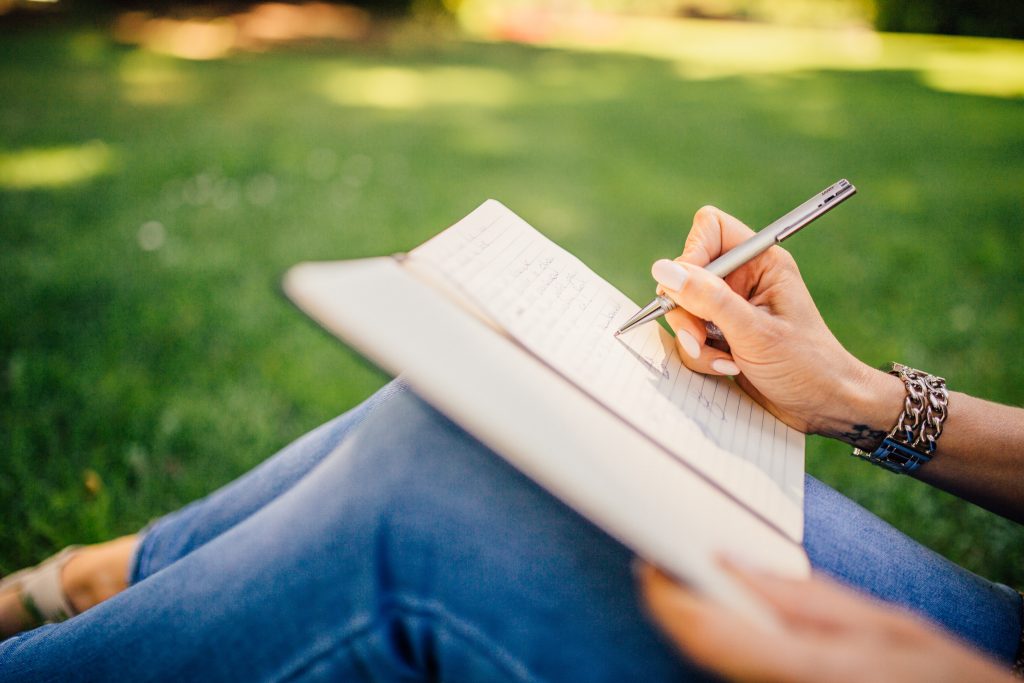 Writing your food down can help you with more awareness of what you are eating but it can also help you see quantities. There are many online journals and apps to help you track your food. Many of them also calculate calories, macros and activity so you can see how you are doing on a daily basis and make adjustments as necessary.
2. Get Rid of Distractions
It's much easier to overeat when you are in front of the television with a bag of chips. In an hour you could have mindlessly eaten the entire bag! Snacking while distracted almost always leads to overeating. If you find that you are hungry while you are working or watching television at night, put a small amount of snack into a bowl so that you have a limit to how much you eat. Try to find something that has protein to help you feel satiated so that you will be less likely to overeat. If you need help fitting protein in your diet, check out our blog on Simple Ways to Add More Protein. And make sure you add those snacks to your food journal so you can track everything.
3. Eat Your Veggies First!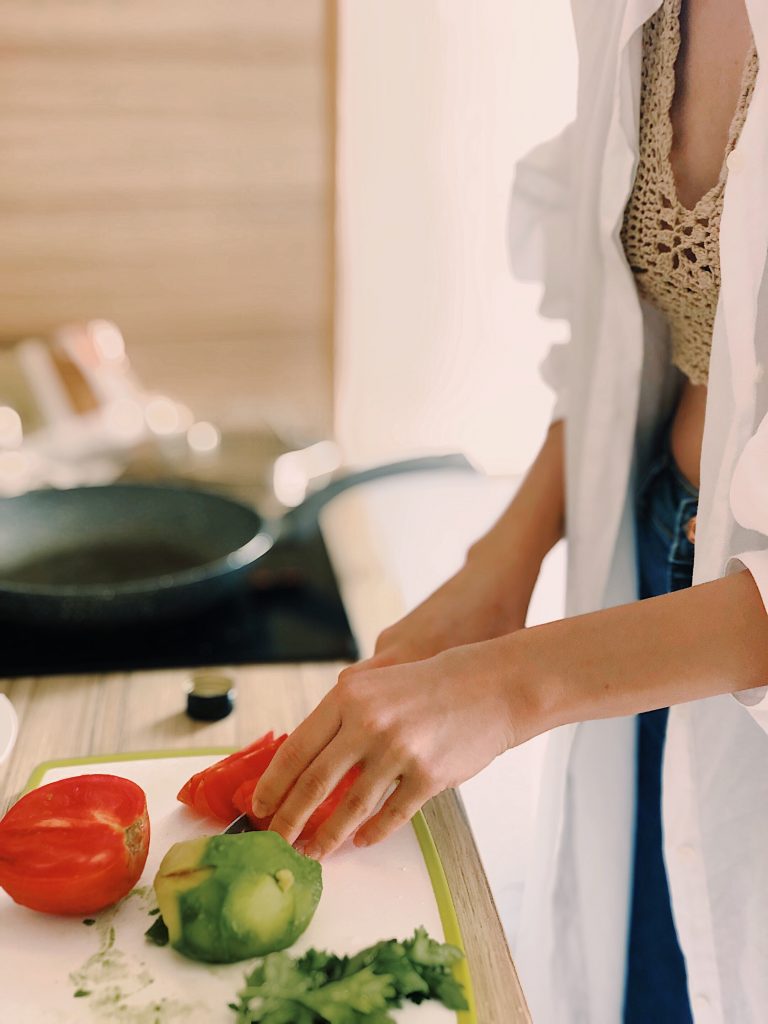 Eating vegetables at the beginning of the meal can help you feel full faster, and prevent overeating items such as bread or starchy, high carbohydrate foods. Vegetables are also a healthy source of fiber in your daily diet and they can fill you up before you binge on less healthy options. Since most vegetables are also very low in calories, feel free to eat as many as you want!
4. Measure your Food
Measuring your food ahead of time will also prevent you from overeating. It is very easy to "eyeball" an amount of food and think it's a certain amount when it is actually much more. One example would be rice. 1 cup of rice has a whopping 200 calories and almost 50 grams of carbohydrates. If you accidentally pile 2 cups on your plate, you've added a lot of calories and carbohydrates that won't necessarily make you feel any more full, but could likely be the difference between losing weight, maintaining weight or even gaining weight. You can use measuring cups or even a food scale to weigh your food before putting it on your plate.
5. Serve Yourself in the Kitchen
Family style dining at the table may seem cozy and inviting, but it could be derailing your diet plan. When food is in front of you and easy to grab, you are much more likely to reach for seconds or thirds. By measuring your food on a plate and bringing it to the table, you are less likely to reach for more once you finish your first serving.
6. Eat with Smaller Plates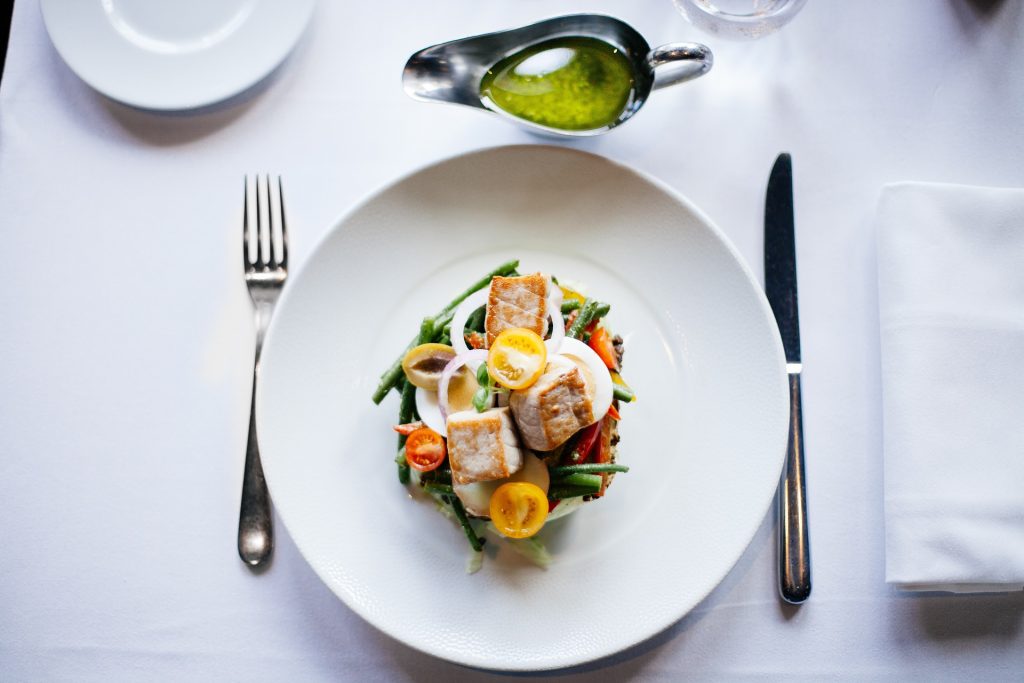 If you've ever heard the saying, "my eyes were bigger than my stomach", it can apply here. When you plate your food, you will likely fill the circumference of your plate, no matter the size. If you use a large dinner plate and fill it up, you will likely over feed yourself and eat more than you need. By using a smaller plate or even a salad size plate you can serve yourself much less food to begin with and if you feel you need more after, you can have a small amount more.
7. Don't Overstock Your Pantry
If your pantry is full of your favorite snacks, treats, processed foods and sugar, you will likely reach for those items mindlessly through the day. When you grocery shop, be very mindful of all the items on your grocery list and try to buy simple, healthy foods. If you don't have salty, high fat or processed snacks easy to grab, you won't be setting yourself up for failure when those late night cravings hit. Your favorite snack foods are much more likely to tempt you when they are in your pantry. If you have to go to the store and purchase them, the likelihood goes down a lot.
8. Meal Plan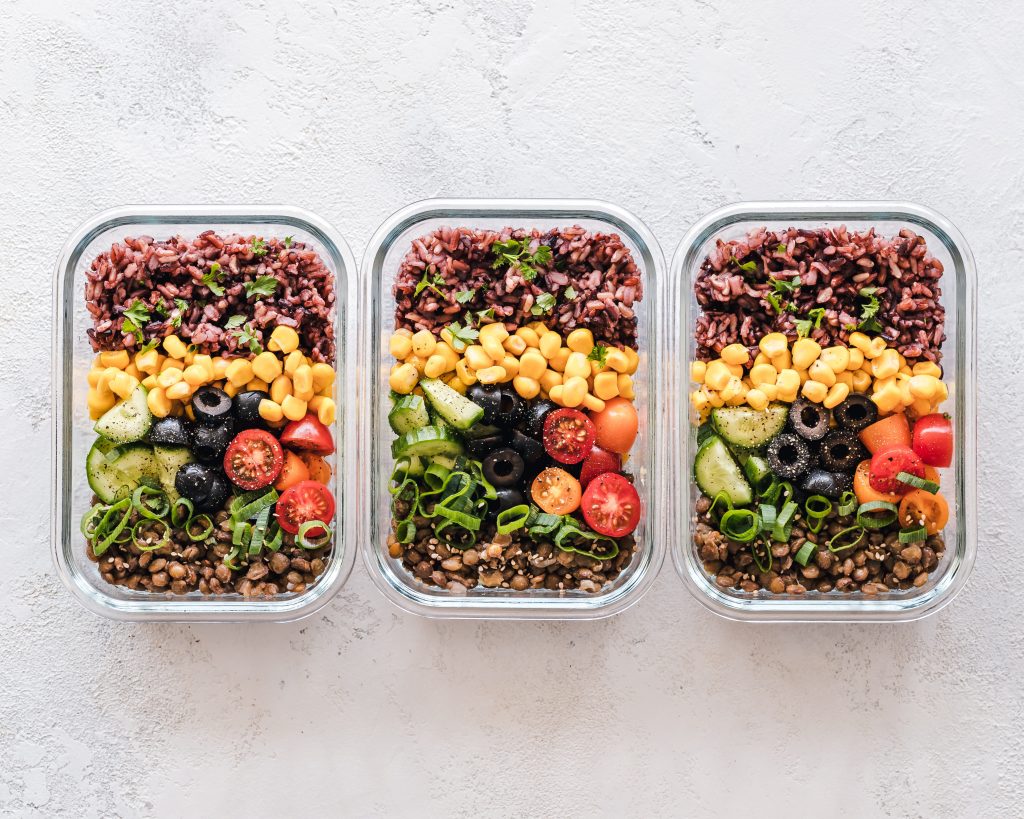 Planning your meals and thinking ahead is a great way to set yourself up for future success. If you set aside time at the beginning of your week when you are focused and intentional, you can avoid the last minute decisions made when you are busy and need to grab something easy and quick. Meal planning can also help you keep your calories down because you can set your plan based on calorie counts in recipes you find. Be sure to find recipes that are high in protein and low in sugars and saturated fats to help your body fuel and feel satiated for longer.
9. Eat Smaller Meals
Eating smaller meals and snacks at regular intervals throughout the day will help you maintain a regular, healthy blood sugar level and avoid a blood sugar crash that could lead you to feel starving and binge eat everything you see. Planning to eat 3 small meals—breakfast, lunch, and dinner with 2-3 small snacks in between can help you go too long in between meals. Make sure if you are busy and running around throughout the day that you have simple easy snacks with you in your purse or car. Protein bars are great for this purpose. They are simple to grab, easy to eat and packed with protein to keep you feeling full while you are out.
Overeating and mindless eating is easy to do, especially when you are trying to lose weight. It is not impossible to get control of your eating habits but it does take some mindful effort and planning. Using these tips to help you in your weight loss journey can help you find success in your program faster, and with better lasting results. These tips are helpful not only during a weight loss program but also for a lifetime of healthy habits. If you need advice on weight loss, diet tips, recipes and more, check out our website at surefiz.com.